Pokémon Crystal
The second generation of Pokémon concludes with Pokémon Crystal, a remake of Gold & Silver. There were improvements to graphics and some new features, but the plot is largely the same.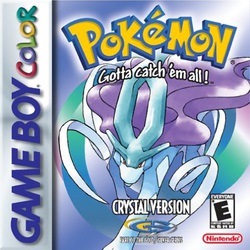 Release dates
| | |
| --- | --- |
| Japan | December 14, 2000 |
| America | July 29, 2001 |
| Europe | November 2, 2001 |
| Australia | September 30, 2001 |
Gameplay changes
Various graphical updates such as improved Pokémon sprites.
The playable character may be male or female.
In the Dragon's Den there is now the chance to receive a Dratini with ExtremeSpeed by answering some questions correctly.
The Ruins of Alph has more common Unown and an extra quest.
The legendary Pokémon Suicune is found in multiple locations throughout Johto, where it promptly flees until the Clear Bell is obtained.
The Move Tutor is introduced, located in Goldenrod Game Corner, and can teach Flamethrower, Ice Beam or Thunderbolt.
The Battle Tower is added. Three Pokémon are taken inside and you must battle against seven trainers in a row.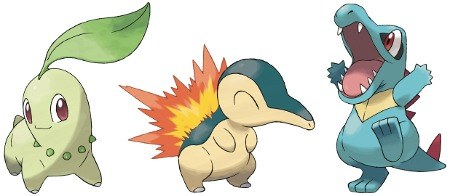 The Johto starters: Chikorita, Cyndaquil and Totodile
Unobtainable Pokémon
Several Pokémon are not available during the course of the game, though they are available from one or more of Crystal's predessors: Gold/Silver or Red/Blue/Yellow.


#001
Bulbasaur
Red/Blue/Yellow
Grass · Poison


#002
Ivysaur
Red/Blue/Yellow
Grass · Poison


#003
Venusaur
Red/Blue/Yellow
Grass · Poison


#004
Charmander
Red/Blue/Yellow
Fire


#005
Charmeleon
Red/Blue/Yellow
Fire


#006
Charizard
Red/Blue/Yellow
Fire · Flying


#007
Squirtle
Red/Blue/Yellow
Water


#008
Wartortle
Red/Blue/Yellow
Water


#009
Blastoise
Red/Blue/Yellow
Water


#037
Vulpix
Blue/Silver
Fire


#038
Ninetales
Blue/Silver
Fire


#056
Mankey
Red/Yellow/Gold
Fighting


#057
Primeape
Red/Yellow/Gold
Fighting


#138
Omanyte
Red/Blue/Yellow
Rock · Water


#139
Omastar
Red/Blue/Yellow
Rock · Water


#140
Kabuto
Red/Blue/Yellow
Rock · Water


#141
Kabutops
Red/Blue/Yellow
Rock · Water


#144
Articuno
Red/Blue/Yellow
Ice · Flying


#145
Zapdos
Red/Blue/Yellow
Electric · Flying


#146
Moltres
Red/Blue/Yellow
Fire · Flying


#150
Mewtwo
Red/Blue/Yellow
Psychic


#151
Mew
Red/Blue/Yellow
Psychic


#179
Mareep
Gold/Silver
Electric


#180
Flaaffy
Gold/Silver
Electric


#181
Ampharos
Gold/Silver
Electric


#203
Girafarig
Gold/Silver
Normal · Psychic


#223
Remoraid
Gold/Silver
Water


#224
Octillery
Gold/Silver
Water