Pokemon Black & White trailer released
Pokemon Black & White — 29 June, 2010
The first trailer for Pokemon Black & White has been revealed by Japanese variety show Oha Suta. It reveals a lot more gameplay footage and more pokemon! You can see the trailer by continuing below. The screenshots below show the new pokemon.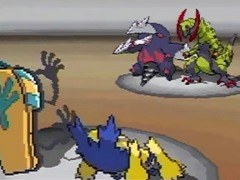 This image shows a large mole pokemon, Doryuuzu, and a mantis pokemon, Ononokusu on the opposing team. On the player's team is Desukan, based on an Egyptian sarcophagus with ghostly arms, and Denchura is the tarantula-based pokemon (very likely Bug/Poison type). A different battle scene includes Moguryu, based on a mole and likely the pre-evolution of Doryuuzu above.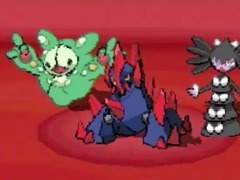 These three pokemon are currently unknown. The middle one could be a Steel or Rock type and the right one possible Dark and/or Fighting.
The trailer shows some of the improved graphics and battle animation. The camera zooms in and out on pokemon as they make their attacks. It also confirms a new feature: 3-on-3 battles! This could bring a whole new set of tactics to pokemon.

---
Here is the trailer for Pokemon Black & White from YouTube:
The game will be released September 18th, 2010.
Recent news
25 July, 2014 • Pokemon Events
14 July, 2014 • Pokemon Omega Ruby & Alpha Sapphire
11 July, 2014 • Pokemon Omega Ruby & Alpha Sapphire
09 July, 2014 • Pokemon Omega Ruby & Alpha Sapphire
12 June, 2014 • Pokemon Omega Ruby & Alpha Sapphire
12 June, 2014 • Pokemon Omega Ruby & Alpha Sapphire
10 June, 2014 • Pokemon Omega Ruby & Alpha Sapphire
08 June, 2014 • Pokemon Omega Ruby & Alpha Sapphire
19 May, 2014 • General News
11 May, 2014 • Pokemon Omega Ruby & Alpha Sapphire
01 April, 2014 • General News
27 December, 2013 • General News