Pokémon Database - News & Updates
Welcome to The Pokémon Database! We believe in making Pokémon information as clear and easy to digest as possible.
On this page below you'll find the recent Pokémon news and updates to this site. Delve deeper using the menu above to find detailed Pokédex entries, attack stats, evolution chains and our thriving community of awesome Pokéfans who'll answer your questions. And much more besides!
Pokemon Sun & Moon — 10 May, 2016
The Pokémon Company have today released a new trailer for the upcoming games, Pokémon Sun and Pokémon Moon. The trailer features the starter Pokémon, main legendary Pokémon that appear on the box, the region and some gameplay footage. Here it is:
Key points:
The region is revealed to be called Alola and looks quite tropical. It seems to be based on Hawaii.
Starter Pokémon Rowlet, a Grass/Flying type owl Pokémon.
Starter Pokémon Litten, a Fire type feline Pokémon.
Starter Pokémon Popplio, a Water type sea lion Pokémon.
Two legendary Pokémon without names: a while lion-like Pokémon, and a dark bat-like Pokémon.
Sun/Moon will be released November 18th 2016 in America/Japan, and November 23rd in Europe.

Pokémon Sun/Moon starters - Rowlet, Litten, Popplio
---
Pokemon Sun & Moon — 26 February, 2016
The two games we reported on yesterday have now been confirmed by Nintendo during the latest Pokémon Direct. They are named Pokémon Sun and Pokémon Moon. However, no footage of the games was shown, so very little is known as yet. The games will be released in late 2016.

Pokémon Sun and Pokémon Moon logos
The only new feature mentioned was that the Chinese language will be added to the language selection screen alongside the current 7 options.
The Direct also talked about Pokémon Red/Blue/Yellow which are being released on 3DS Virtual Console tomorrow, and stated that they will be compatible with Pokémon Bank! This means that Pokémon caught in the classic games will be able to be traded to newer games.
Update: full trailer and screenshots below, including a new Pokémon!
---
Pokemon Sun & Moon — 25 February, 2016
Two new Pokémon trademarks have been discovered and were recently registered. They are Pokémon Sun and Pokémon Moon, and come with logos:

Pokémon Sun and Pokémon Moon logos
This comes ahead of a Pokémon Direct to be broadcast tomorrow (Friday) at 7am PST / 10am EST / 3pm GMT, on the eve of Pokémon Day, the 20th Anniversary of Pokémon this Saturday 27th.
However, as we have reported in the past, the existence of a trademark does not mean there will be a game of that name. Potential domain names like pokemonsunmoon.com are not registered to Nintendo or their usual PR firms. [Edit: it seems there are some domains registered to Nintendo, such as pokemon-sunmoon.com]
The Pokémon Direct tomorrow should bring more information!
---
Site Updates — 19 February, 2016
On February 27th, Pokémon will be 20 years old! The very first Pokémon games, Pokémon Red & Pokémon Green, were released in Japan on that date in 1996. Since then the franchise has continued to grow, through color, touch screens and now into 3D. I've been playing since I could first get my hands on the games in 1999 and have been addicted to Pokémon ever since!
So today I'm proud to unveil our special retro design! It features graphics and sprites from the original Western releases, Pokémon Red & Pokémon Blue (although the sprites have been colored!). And in the spirit of PokemonDb's history we've gone back to a Scyther in the header :)
Hope you like it! If you find any problems please report them here.
---
General News — 15 February, 2016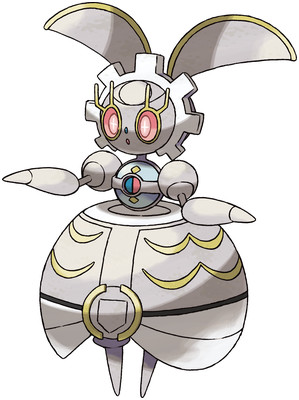 The new Pokémon shown in CoroCoro a few days ago has been officially revealed as Magearna in English. It is known as the Artificial Pokémon, is 3′3″ tall and weighs 177.5 lbs. The official artwork is shown to the left.
It will appear with Volcanion in the next Pokémon movie, Volcanion and the Ingenious Magearna.
---
General News — 10 February, 2016
Japanese magazine CoroCoro has revealed a brand new Pokémon! It is named Magiana and is said to be made by humans 500 years ago. It will feature in the next Pokémon movie alongside Volcanion.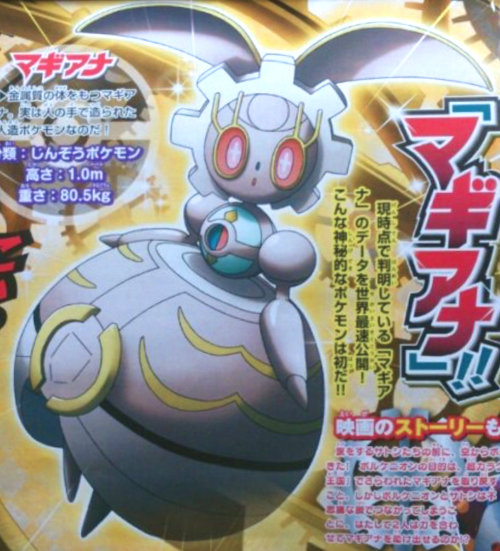 The new Pokémon, Magiana
It is apparently a completely new Pokémon, although it does bear some resemblance to Diancie and Klink. No word yet on its type or how it fits with other recently-revealed Pokémon and Formes, in terms of potential new Pokémon games. Note that a new Pokémon does not necessarily mean that the next game will be a new Generation, as Gen 4 Pokémon Munchlax was revealed before Emerald was released.
---
General News — 25 January, 2016
TPCi have revealed their advert, celebrating 20 years of Pokémon, that will run during this year's Super Bowl 50.
The ad was shot in Rio de Janeiro and explores ambition, drive, and training, concepts that every Pokémon Trainer is familiar with. It features the tagline Train On. There are also lots of neat references to Pokémon's history throughout the video - can you spot them all?
---
General News — 13 January, 2016
On February 27 this year, the Pokémon franchise will be 20 years old! The Pokémon Company has announced that there will be lots of celebrations during 2016.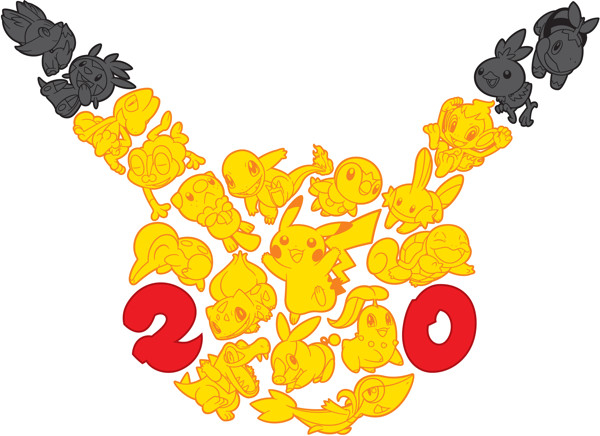 First up is the re-release of the original Pokémon Red/Blue on 3DS via Virtual Console as previously reported. Several other new games are due for release in 2016 too, including Pokémon Go and Pokken Tournament.
New events are scheduled for 2016 too - every month from February will see the release of a mythical Pokémon! In order they are Mew, Celebi, Jirachi, Darkrai, Manaphy, Shaymin, Arceus, Victini, Keldeo, Genesect and finally Meloetta in December. They will be available in Gamestop stores in America. No details about other locations just yet.
---
General News — 13 November, 2015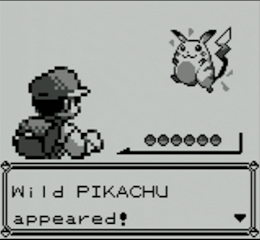 Big news coming out of tonight's Nintendo Direct. The Pokémon games that started the franchise, Pokémon Red, Pokémon Blue and Pokémon Yellow, are to be relaunched in the 3DS eShop! They will use the Virtual Console and stay true to the originals with the monochrome palette, same as other Game Boy games in the eShop.
Not only that, it was announced that as well as fixing some issues with the games, trading will be possible using wireless communication on the 3DS. That means players really can catch all the original 150 Pokémon! (No word yet on whether #151 Mew will be available.)
Pokémon Red/Blue/Yellow will be released on February 27th 2016, exactly 20 years to the day that the original Pokémon Red & Green were released in Japan. Check out the announcement trailer:
---
General News — 12 November, 2015
In today's Nintendo Direct a new Pokémon game was announced - Pokémon Picross, to be released in December in the 3DS eShop for free.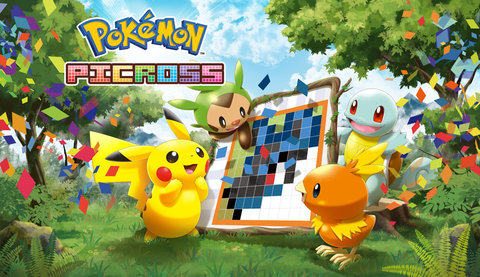 In Picross, also known as Hanjie or Nonagrams, you have to fill in certain squares to create a picture - in this case different Pokémon! Numbers on the side of the grid tell you how many squares are filled in each row or column.
Trailer and screenshots below!
---
General News — 12 November, 2015
Pokken Tournament - the cross between Pokémon and Tekken due for release on Wii U in 2016 - has a new trailer released a few days ago. It showcases lots of footage and also reveals some new additions, including Pikachu Libre, the Cosplay Pikachu variant featured in Pokémon Omega Ruby/Alpha Sapphire.
And at the end of the video we get a brief glimpse of Shadow Mewtwo an alternate version of Mewtwo that calls back to the Shadow Pokémon from Pokémon Colosseum. Here's the trailer:
---
General News — 21 September, 2015
The new Zygarde forms were officially revealed by TPCi last week (apologies for the delay, pretty busy these days). They pretty much follow what we already know, the main difference being that Zygarde's perfect form is officially known as Complete Forme.
Here are all the Formes: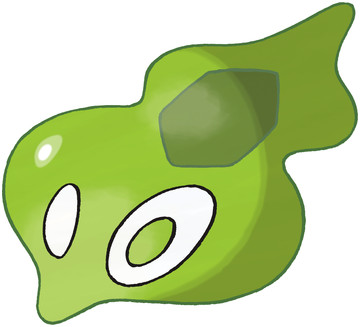 Zygarde Cell - single cells that make up Zygarde. They cannot use any moves.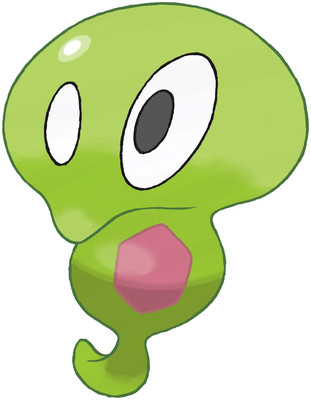 Zygarde Core - part of Zygarde's brain. They are known to take action when the ecosystem changes.
---
Popular Quick-Links