Pokémon Database - News & Updates
Welcome to The Pokémon Database! We believe in making Pokémon information as clear and easy to digest as possible.
On this page below you'll find the recent Pokémon news and updates to this site. Delve deeper using the menu above to find detailed Pokédex entries, attack stats, evolution chains and our thriving community of awesome Pokéfans who'll answer your questions. And much more besides!
General News — 21 September, 2015
The new Zygarde forms were officially revealed by TPCi last week (apologies for the delay, pretty busy these days). They pretty much follow what we already know, the main difference being that Zygarde's perfect form is officially known as Complete Forme.
Here are all the Formes: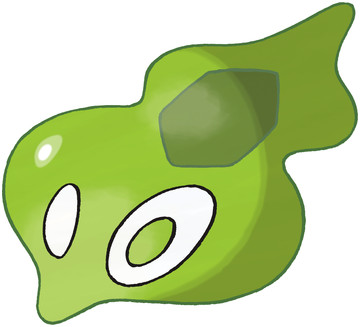 Zygarde Cell - single cells that make up Zygarde. They cannot use any moves.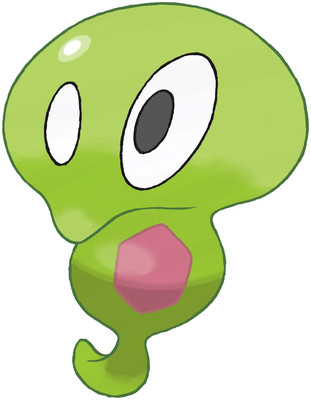 Zygarde Core - part of Zygarde's brain. They are known to take action when the ecosystem changes.
---
General News — 12 September, 2015
Japanese magazine CoroCoro has leaked and reveals multiple new Formes for Zygarde!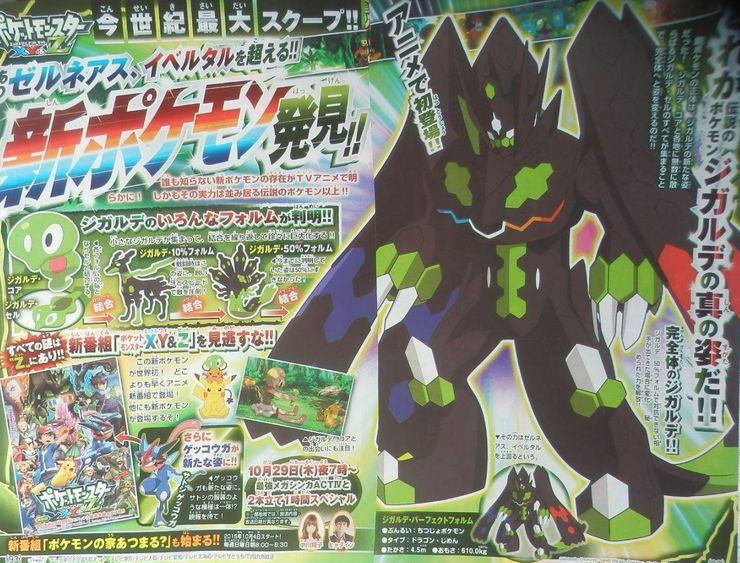 Going from left to right, the Formes are as follows (translations, not necessarily the final English names).
The flat green blob is known as Zygarde Cell.
The green blob that we have seen before is known as Zygarde Core. When it merges with Zygarde Cell it becomes the brain of the larger forms.
The dog-like form is Zygarde 10% Forme. It has high Speed.
The regular Zygarde from Pokémon X&Y is known as Zygarde 50% Forme.
The large human-like monster is Zygarde Perfect Forme, and is much more powerful than Xerneas and Yveltal.
No announcement of the next Pokémon game is provided, however the magazine does state that the next series of the anime will be called Pokémon XY&Z.
---
General News — 10 September, 2015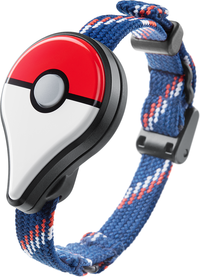 At a business strategy press conference today, The Pokémon Company revealed a new game in conjunction with Nintendo and Niantic (developers of Ingress). It is an augmented reality game for smartphones, where players can catch 'em all in the real world!
Players explore real world locations to battle, catch and trade Pokémon. An additional Bluetooth device will also be available, shown to the right, which will alert players to nearby events such as Pokémon in the vicinity.
The game will be free with in-app purchases. Here's a promo video for the game:
---
Pokemon Events — 21 August, 2015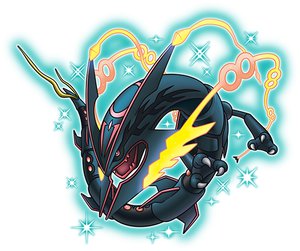 To celebrate the release of Pokémon TCG: XY—Ancient Origins, the next expansion in the Pokémon Trading Card Game, a special Shiny Rayaquaza distribution event is taking place.
The Shiny Rayquaza knows the Dragon Ascent move, which allows it to Mega Evolve. It's available for the Omega Ruby and Alpha Sapphire games.
In America/Canada it's available from August 12th until September 14th, via Mystery Gift > Receive Via Internet.
In the UK it's available from August 24th until September 20th using a serial code from Smyths Toys Store.
In Australia/New Zealand it's available from August 10th until August 31st using a serial code from EB Games.
---
General News — 10 August, 2015
A small update from Japanese magazine CoroCoro today. They have images of the green blob Pokémon seen during the trailer for the next anime special.
It confirmed Zygarde will be in said special, but no other real information was provided. However, supposedly there will be more details in the next issue, due out early September.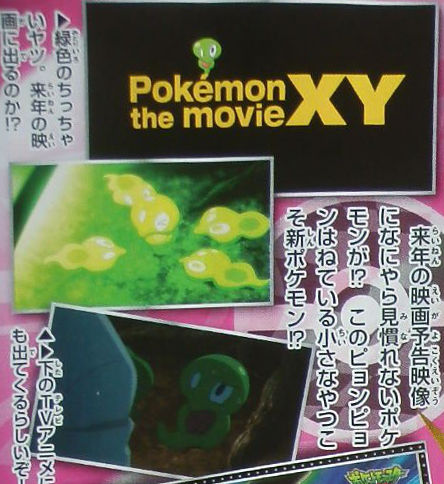 Green blob Pokémon, rumoured to be related to Zygarde
---
General News — 01 August, 2015
A video has surfaced showing the mystery green blob creature that was seen during the Japanese trailer for the next Pokemon movie.
---
Pokemon Events — 21 July, 2015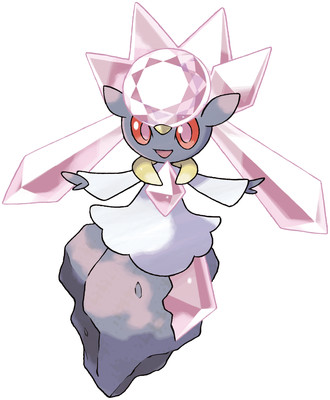 The Pokémon company has announced a new event to receive the mythical Pokémon Diancie. This event will run for a very short time, so make sure to get it as soon as possible!
Diancie will be available for Pokémon Omega Ruby and Alpha Sapphire via Mystery Gift between July 24th and 27th. That's this Friday to Monday!
The Diancie will have the moves Diamond Storm, Moonblast, Dazzling Gleam and Protect. Once received from the delivery girl in the PokéCenter, leave and then re-enter, which will trigger the event to receive Diancite.
---
Site Updates — 16 July, 2015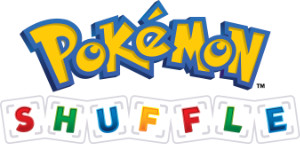 It's been a long while since I added any significant new content here, although I've been fixing many minor errors over the past few weeks. But today I've added a new section for the spinoff game, Pokémon Shuffle!
We don't often cover spinoff games here, but despite using the freemium model of gaming (which I dislike), the game itself is a lot of fun! And payment isn't really required at any point. There is a lot more to the game than you might expect so hopefully you find it useful.
The new pages contain the in-game Pokédex, a list of stages, ability details and Mega Evolution details. There is lots there already but I'm working on adding some more detail for the stages and abilities.
---
General News — 13 July, 2015
The latest issue of Japanese magazine CoroCoro has been leaked and it includes the silhouette of a Pokémon to feature in the next Pokémon movie.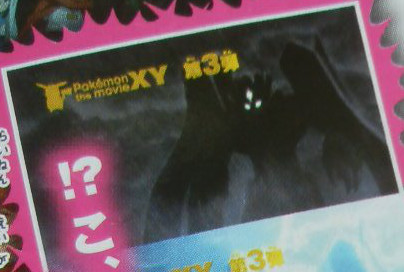 Mysterious Pokemon
It's unknown whether this is an entirely new Pokémon or a new form for an existing Pokémon (although it does bear some similarities to the legendary Pokémon Zygarde). A trailer for the movie is due to be release this weekend.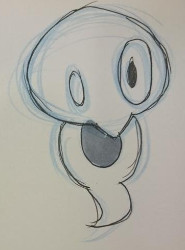 UPDATE: The trailer for this movie is now showing in cinemas in Japan and reports are coming in of another new Pokémon appearing. It is a green blob with a red spot on its chest and one eye bigger than the other. Many sketches have started appearing online, the one to the right is supposedly the most accurate so far.
Again, no word on whether this is an entirely new Pokémon or related to an existing one.
---
General News — 13 July, 2015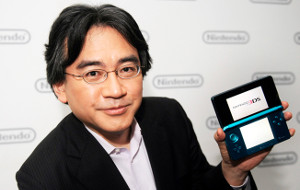 Some very sad news has come out today. Nintendo Global President, Satoru Iwata, has passed away aged 55 due to a bile duct growth.
Iwata began working at Nintendo in the 1980s, and in 2002 was appointed as President. In 2013 he became CEO of Nintendo of America and was the face of Nintendo Directs.
Iwata has had a huge influence on Nintendo and the Pokémon series in particular. He was involved with the development of Pokémon Stadium, and was a vital part of the development of Pokémon Gold & Silver, compressing the game's data enough such that the Kanto region could be included. In later years he was the Executive Producer of Ruby/Sapphire, Emerald Version, FireRed/LeafGreen and Diamond/Pearl.
RIP Iwata.
---
Pokemon Events — 10 February, 2015
New event Pokémon are available for Pokémon Omega Ruby and Pokémon Alpha Sapphire! Serperior, Emboar and Samurott can be obtained in Mystery Gift using special codes. These Pokémon have their hidden abilities which have never before been released! They each also have the event-exclusive move Hold Back.



Serperior - code POKEMON497 - has the ability Contrary and the moves Leaf Storm, Hold Back, Wring Out, Giga Drain.
Emboar - code POKEMON500 - has the ability Reckless and the moves Flare Blitz, Hold Back, Head Smash, Take Down.
Samurott - code POKEMON503 - has the ability Shell Armor and the moves Razor Shell, Hold Back, Confide, Hydro Pump.
They are obtained by going to Mystery Gift on the start screen, then Get via Code and then entering the codes above.
---
Pokemon Omega Ruby & Alpha Sapphire — 21 November, 2014
Omega Ruby & Alpha Sapphire are finally upon us! Well, apart from in Europe where it is released next Friday. Hopefully future games will go back to a true simultaneous worldwide release.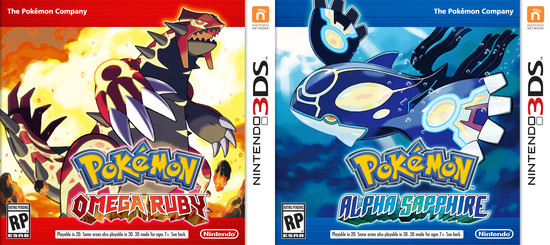 Nonetheless, all the information has been flowing so I've been busy updating the various pages around the site. We already had details for new Mega Pokemon, moves and abilities on the site. But now we have updated with all the new learnsets for every Pokemon, as well as TM/HM pages for OR/AS. Here are some links:
These obviously contain spoilers so only look if you need some hints!
---
Popular Quick-Links