Pokémon Database - News & Updates
Welcome to The Pokémon Database! We believe in making Pokémon information as clear and easy to digest as possible.
On this page below you'll find the recent Pokémon news and updates to this site. Delve deeper using the menu above to find detailed Pokédex entries, attack stats, evolution chains and our thriving community of awesome Pokéfans who'll answer your questions. And much more besides!
Pokémon Scarlet & Violet — 17 April, 2023
A new Pokémon has been revealed for the upcoming Scarlet/Violet DLC, The Hidden Treasure of Area Zero: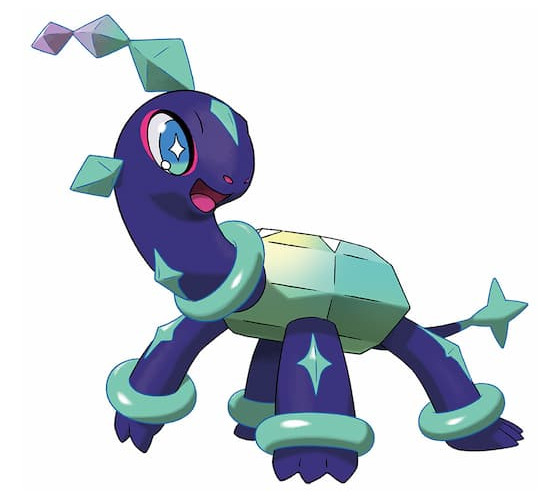 Very little information has been revealed but it appears to be related to Terapagos (maybe a pre-evolution). The official site states:
This Pokémon is small in stature and not particularly strong, but when push comes to shove, it can crystallize the energy in its body to form a protective shield. Apparently, it can also assume a dormant state when it feels that its life is in danger by pulling its head, limbs, and tail into its shell and making itself look like a jewel.
---
Pokémon Scarlet & Violet — 27 February, 2023
A new Pokémon Presents has just finished airing and revealed multiple new items. The biggest news was a new DLC update for Pokémon Scarlet & Violet. Named The Hidden Treasure of Area Zero, it comes in two parts:
The Teal Mask, to be released autumn this year. In this part you visit a new land, Kitakami, on a school trip
The Indigo Disk, to be released in winter this year. In this part you study as an exchange student at Blueberry Academy.
Over 230 Pokémon from past generations will be available to catch in these new regions, or brought in via Pokémon Home. Several new Pokémon were also announced:
Artwork and more news can be seen below. Here is the full Pokémon Presents video:
---
Pokémon Scarlet & Violet — 17 November, 2022
The newest games in the Pokémon franchise, Pokémon Scarlet & Pokémon Violet are starting to be released around the world! As usual we are busy cataloguing all the new information for the games such as new Pokémon, moves, abilities and locations.

The home page and top-level Scarlet/Violet page will not contain spoilers,and the new Pokémon will not be shown on pages such as the National Pokédex for two weeks. However, following links from the SV section will show the new information. Also on PokéBase there is a button on the right hand side to hide questions tagged scarlet-violet.
Here are some links to notable pages:
---
Pokémon Scarlet & Violet — 08 November, 2022
A new trailer has been released for Pokémon Scarlet & Violet. For the most part it recaps things we've already seen to the tune of Ed Sheeran's Celestial (which is part of the soundtrack to the game), but near the end some brief shots of new Pokémon are seen. They bear a resemblance to Donphan, and according to the press release are known as Great Tusk and Iron Treads.
The two Pokémon are exclusive to Scarlet & Violet respectively, and are part of the Scarlet Book / Violet Book which are ancient tomes written about an expedition in the past.
---
Pokémon Scarlet & Violet — 06 November, 2022
Following on from yesterday's addition to Pokémon GO, today a new trailer was released which confirms the Pokémon to be Gimmighoul. It is Ghost type and has two forms - Roaming Form, which is the one appearing in GO - and Chest Form, where it tries to get people to give it coins.
The Pokémon GO website also added an update, confirming that linking Scarlet/Violet with GO will allow catching the Roaming Form in GO, which can then be transferred (via HOME) to SV.
---
Pokémon Scarlet & Violet — 05 November, 2022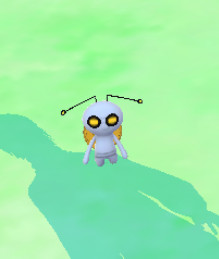 A new Pokémon has surfaced, following Dratini Community Day in Pokémon GO (which runs from 2-5pm on Saturday 5th). Yesterday its model was found in GO data and leaked by PokeMiners on Twitter.
At 5pm, this creature begins following the player around the map, however, it is not catchable (and may not be a real Pokémon, in the vein of Zygarde cells). Several PokéStops turn gold and many items can be acquired from them, including a ?????? Coin which is apparently from the Paldea region.
UPDATE: a new website chest.pokemon.com was unveiled by the Pokémon Twitter account. It has a treasure chest which updates periodically. As I discovered, it's set to update at specific intervals, concluding at 24 hours and 999 coins (1pm GMT/6am PT), with something else happening an hour later at 2pm GMT/7am PT - possibly a new trailer!

---
Site Updates — 03 November, 2022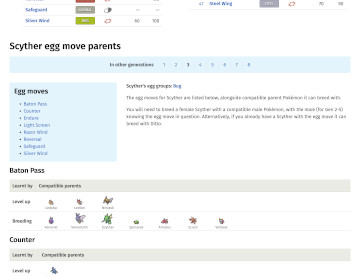 It's been a while since I posted about any updates to the site but minor amendments are always being done, particularly for ongoing games like Pokémon GO. And over the past few months a few larger changes have been made.
The biggest is a complete overhaul of the egg move parents section. Previously we only had one page per Pokémon which showed the latest game, and omitted alternate forms which can have different egg moves. It worked well enough in the past as the details didn't change much across generations, but with recent games having limited Pokédexes (Pokédices?) it was becoming less and less helpful. So this content has now been expanded for each set of games and moved to the bottom of the moves by generation page, with tabs for alternate forms.
The second new page is a Pokémon text list generator. It's a simple tool to grab a plain text list of Pokémon. There are various options to show forms, types and base stats, or filter by generation/type. The output can be pasted into a spreadsheet or a text editor for further analysis/manipulation. Give it a try and let us know what you think!
---
Pokémon Scarlet & Violet — 25 October, 2022
A new teaser trailer has aired, showing a new ghost dog Pokémon. It was later revealed to be named Greavard, and a new trailer released showing it in-game:
Greavard is Ghost type and has the ability Pickup.
---
Pokémon Scarlet & Violet — 14 October, 2022
A new electric frog Pokémon has been revealed. It was teased in a livestream two days ago, featuring Iono, the Electric type gym leader of Levincia, Paldea. In today's video the Pokémon was revealed as Bellibolt.
A second trailer has now been released, showing Bellibolt in action:
---
Pokémon Scarlet & Violet — 06 October, 2022
A new 14-minute trailer has been released for Pokémon Scarlet/Violet, mostly recapping old information but also introducing some new features. A new Pokémon, Farigiraf was revealed, which is an evolution of Girafarig. It remains Normal/Psychic type, and can have one of two new abilities:
---
Pokémon Scarlet & Violet — 28 September, 2022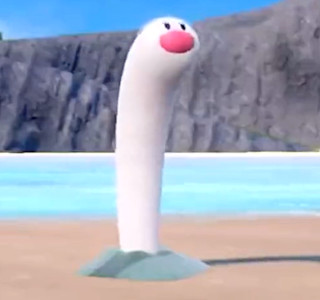 A new Pokémon has been revealed in a spoof presentation released on the Japanese Pokémon website. Purporting to be a meeting of the World Pokémon Ecological Society, it featured several people on a conference call, discussing Pokémon and Pokémon habitats.
Various footage from the Paldea region in Scarlet/Violet was shown. At the end a new white worm Pokémon was seen. It was described as looking similar to Diglett, but appears to be a distinct Pokémon named Wiglett. We'll post further details when we get them. The full original presentation can be viewed here.
UPDATE 29/09: A short new trailer was released, providing more details on Wiglett:
---
Pokémon Scarlet & Violet — 07 September, 2022
A new trailer has dropped for Pokémon Scarlet & Pokémon Violet and introduces new Pokémon and characters, including Team Star, some troublemakers at school.
New Pokémon revealed:
---
Follow @pokemondb on Twitter
Popular Quick-Links
Normal Fire Water Electric Grass Ice Fighting Poison Ground Flying Psychic Bug Rock Ghost Dragon Dark Steel Fairy
RSS news feed

Check out our friends at PokéJungle for merchandise news, rumors and more!