Pokédex 3D
Pokédex 3D is a new application from Nintendo for the 3DS console. It is available for free through the Nintendo eShop which came with a 3DS update in June 2011.
The app allows users to view Pokémon in full 3D, rotate them and see their stats, evolutions, moves, abilities and other details. Only the 153 Unova Pokémon from Black & White are featured at this time. However, not all the Pokémon are available straight away; instead they must be collected using the methods below.
Obtaining Pokémon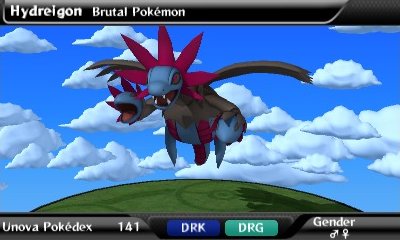 When the app is first installed it starts with 16 Pokémon (Snivy, Servine, Serperior, Tepig, Pignite, Emboar, Oshawott, Dewott, Samurott, Audino, Scraggy, Minccino, Emolga, Foongus, Axew and Hydreigon).
Each day up to three new Pokémon will added to the Pokédex if the 3DS is connected to any wifi connection. This is known as Spot Pass.
The 3DS can also connect to other systems via local wireless and swap Pokédex information. Simply go to Settings, then tap Give or Get to send or receive data from a nearby 3DS.
AR Markers
AR stands for Augmented Reality - a great invention in which images can be super-imposed on top of live camera scenes. AR Markers - also known as QR codes - are special patterns that the camera recognises and each different pattern represents a Pokémon. Under Settings go to AR Viewer and point the camera at one of the squares below.
Scanning the cards for Victini, Cobalion, Terrakion, Virizion, Reshiram or Zekrom will add them to the Pokédex right away. Any other Pokémon not in the dex will appear as a silhouette, although the marker itself will be put in the sticker book. Any unknown AR stickers in the book have a higher chance of being chosen as a random daily Pokémon via Spot Pass.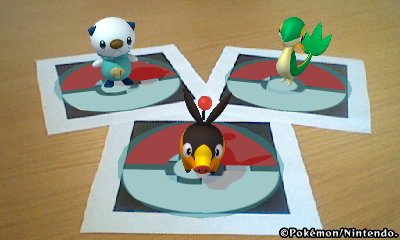 Oshawott, Snivy and Tepig in the AR Viewer
Stickers
Pokédex 3D has a sticker book with two pages: one for AR Stickers and one for Photo Stickers. When scanning an QR code of a Pokémon in your dex, you will obtain an AR Sticker for that Pokémon. If you also take a photo of the Pokémon, you get a Photo Sticker. More stickers unlock certain features:
| Stickers | Unlocked |
| --- | --- |
| 30 | Note button (♪), which plays the Pokémon's cry in the AR Viewer. |
| 50 | Use any photo from 3DS camera as a background for AR photos. |
| 70 | Display 9 Pokémon at once in AR Viewer. |
| 100 | Zoom Pokémon in AR Viewer. |
| 150 | Stopwatch. |
| 200 | Display 10 Pokémon at once in AR Viewer. |
| 250 | Display 11 Pokémon at once in AR Viewer. |
Pokédex 3D images

The Pokédex 3D logo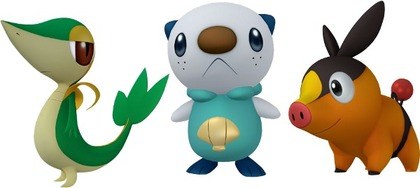 The Unova starters in 3D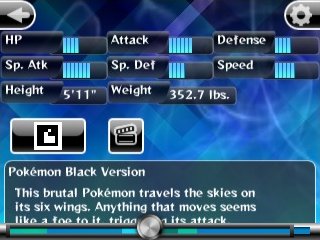 Hydreigon's base stats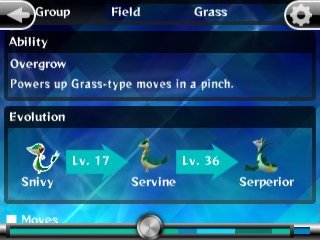 Snivy's evolution and abilities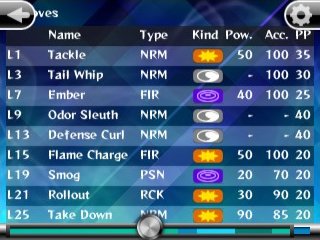 Tepig's moves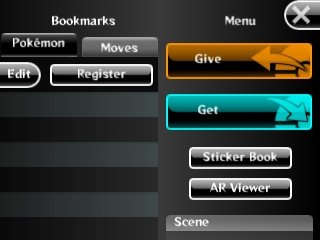 The Settings menu
List of AR Markers
Here are all the AR markers for the sticker book. You can hold the 3DS camera up to the computer screen and scan the markers with the AR Viewer. (It's actually easier to view the Pokémon this way because they come out from the screen, head-on.) Alternatively, download the PDF and print them.
As described above, if you want certain Pokémon to appear in your dex first, scan only those AR Markers; otherwise scan them all. Once a Pokémon is listed in Pokédex 3D, scan its marker again to add the sticker, then snap a photo to add the photo sticker. It's not required to save the photo to the SD card.