Sneasler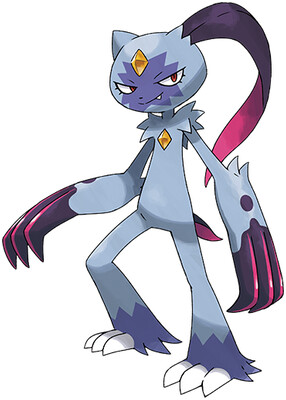 Pokédex data
National №
903
Type
Poison Fighting
Species
Free Climb Pokémon
Height
1.3 m (4′03″)
Weight
43.0 kg (94.8 lbs)
Abilities
1. Pressure
Poison Touch (hidden ability)

Local №
203 (Legends: Arceus)

Training
| | |
| --- | --- |
| EV yield | — |
| Catch rate | — |
| Base Friendship | — |
| Base Exp. | — |
| Growth Rate | — |
Base stats
| | | | | |
| --- | --- | --- | --- | --- |
| HP | 80 | | 270 | 364 |
| Attack | 130 | | 238 | 394 |
| Defense | 60 | | 112 | 240 |
| Sp. Atk | 40 | | 76 | 196 |
| Sp. Def | 80 | | 148 | 284 |
| Speed | 120 | | 220 | 372 |
| Total | 510 | | Min | Max |
The ranges shown on the right are for a level 100 Pokémon. Maximum values are based on a beneficial nature, 252 EVs, 31 IVs; minimum values are based on a hindering nature, 0 EVs, 0 IVs.
Evolution chart
Pokédex entries
| | |
| --- | --- |
| Legends: Arceus | Because of Sneasler's virulent poison and daunting physical prowess, no other species could hope to best it on the frozen highlands. Preferring solitude, this species does not form packs. |
Moves learned by Sneasler
Moves learnt by level up
Sneasler learns the following moves in Pokémon Legends: Arceus at the levels specified.
Move Tutor moves
Sneasler can be taught these attacks in Pokémon Legends: Arceus from move tutors:
| Move | Type | Cat. | Power | Acc. |
| --- | --- | --- | --- | --- |
| Aerial Ace | Flying | | 60 | ∞ |
| Bulk Up | Fighting | | — | — |
| Calm Mind | Psychic | | — | — |
| Drain Punch | Fighting | | 75 | 100 |
| False Swipe | Normal | | 40 | 100 |
| Focus Energy | Normal | | — | — |
| Giga Impact | Normal | | 150 | 90 |
| Hyper Beam | Normal | | 150 | 90 |
| Iron Tail | Steel | | 100 | 75 |
| Poison Jab | Poison | | 80 | 100 |
| Power Shift | Normal | | — | ∞ |
| Rest | Psychic | | — | — |
| Rock Smash | Fighting | | 40 | 100 |
| Shadow Ball | Ghost | | 80 | 100 |
| Shadow Claw | Ghost | | 70 | 100 |
| Snarl | Dark | | 55 | 95 |
| Swift | Normal | | 60 | ∞ |
| X-Scissor | Bug | | 80 | 100 |
Sneasler sprites
Answers to Sneasler questions