Overqwil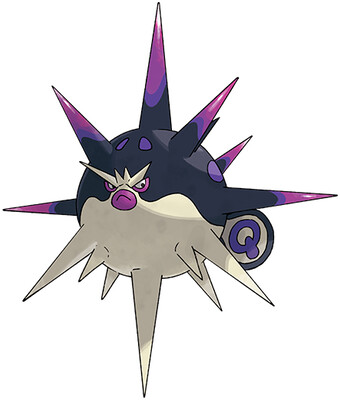 Training
| | |
| --- | --- |
| EV yield | — |
| Catch rate | — |
| Base Friendship | — |
| Base Exp. | — |
| Growth Rate | — |
Base stats
| | | | | |
| --- | --- | --- | --- | --- |
| HP | 85 | | 280 | 374 |
| Attack | 115 | | 211 | 361 |
| Defense | 95 | | 175 | 317 |
| Sp. Atk | 65 | | 121 | 251 |
| Sp. Def | 65 | | 121 | 251 |
| Speed | 85 | | 157 | 295 |
| Total | 510 | | Min | Max |
The ranges shown on the right are for a level 100 Pokémon. Maximum values are based on a beneficial nature, 252 EVs, 31 IVs; minimum values are based on a hindering nature, 0 EVs, 0 IVs.
Evolution chart
(use Barb Barrage 20 times in Strong Style)
Pokédex entries
| | |
| --- | --- |
| Legends: Arceus | Its lancelike spikes and savage temperament have earned it the nickname "sea fiend." It slurps up poison to nourish itself. |
Moves learned by Overqwil
Moves learnt by level up
Overqwil learns the following moves in Pokémon Legends: Arceus at the levels specified.
| Lv. | Move | Type | Cat. | Power | Acc. |
| --- | --- | --- | --- | --- | --- |
| 1 | Poison Sting | Poison | | 15 | 100 |
| 5 | Spikes | Ground | | — | — |
| 9 | Pin Missile | Bug | | 25 | 95 |
| 15 | Barb Barrage | Poison | | 60 | 100 |
| 21 | Water Pulse | Water | | 60 | 100 |
| 26 | Dark Pulse | Dark | | 80 | 100 |
| 29 | Poison Jab | Poison | | 80 | 100 |
| 37 | Aqua Tail | Water | | 90 | 90 |
| 47 | Double-Edge | Normal | | 120 | 100 |
| 57 | Self-Destruct | Normal | | 200 | 100 |
Move Tutor moves
Overqwil can be taught these attacks in Pokémon Legends: Arceus from move tutors:
| Move | Type | Cat. | Power | Acc. |
| --- | --- | --- | --- | --- |
| Aqua Tail | Water | | 90 | 90 |
| Dark Pulse | Dark | | 80 | 100 |
| Giga Impact | Normal | | 150 | 90 |
| Hyper Beam | Normal | | 150 | 90 |
| Ice Ball | Ice | | 30 | 90 |
| Ice Beam | Ice | | 90 | 100 |
| Icy Wind | Ice | | 55 | 95 |
| Poison Jab | Poison | | 80 | 100 |
| Rest | Psychic | | — | — |
| Shadow Ball | Ghost | | 80 | 100 |
| Sludge Bomb | Poison | | 90 | 100 |
| Spikes | Ground | | — | — |
| Swift | Normal | | 60 | ∞ |
| Water Pulse | Water | | 60 | 100 |
Overqwil sprites
Answers to Overqwil questions