Mr. Mime - Generation 1 learnset
Below are all the moves that Mr. Mime can learn in Generation 1, which consists of:
Pokémon Red
Pokémon Blue
Pokémon Yellow
Note: The move categories shown here are based on the move's type, as was the mechanic in Generations 1-3. The moves' detail pages may show a different category for Generation 4+.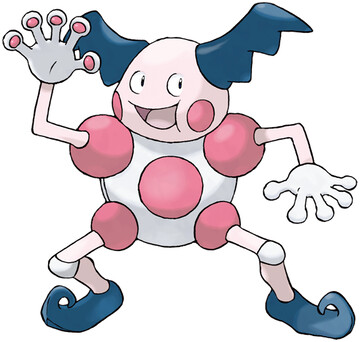 Moves learnt by level up

Mr. Mime learns the following moves in Pokémon Red/Blue at the levels specified.

Moves learnt by HM

Mr. Mime is compatible with these Hidden Machines in Pokémon Red/Blue:

Moves learnt by TM

Mr. Mime is compatible with these Technical Machines in Pokémon Red/Blue:

| TM | Move | Type | Cat. | Power | Acc. |
| --- | --- | --- | --- | --- | --- |
| 1 | Mega Punch | Normal | | 80 | 85 |
| 5 | Mega Kick | Normal | | 120 | 75 |
| 6 | Toxic | Poison | | — | 90 |
| 8 | Body Slam | Normal | | 85 | 100 |
| 9 | Take Down | Normal | | 90 | 85 |
| 10 | Double-Edge | Normal | | 120 | 100 |
| 15 | Hyper Beam | Normal | | 150 | 90 |
| 17 | Submission | Fighting | | 80 | 80 |
| 18 | Counter | Fighting | | — | 100 |
| 19 | Seismic Toss | Fighting | | — | 100 |
| 20 | Rage | Normal | | 20 | 100 |
| 22 | Solar Beam | Grass | | 120 | 100 |
| 24 | Thunderbolt | Electric | | 90 | 100 |
| 25 | Thunder | Electric | | 110 | 70 |
| 29 | Psychic | Psychic | | 90 | 100 |
| 30 | Teleport | Psychic | | — | — |
| 31 | Mimic | Normal | | — | — |
| 32 | Double Team | Normal | | — | — |
| 33 | Reflect | Psychic | | — | — |
| 34 | Bide | Normal | | — | — |
| 35 | Metronome | Normal | | — | — |
| 40 | Skull Bash | Normal | | 130 | 100 |
| 44 | Rest | Psychic | | — | — |
| 45 | Thunder Wave | Electric | | — | 90 |
| 46 | Psywave | Psychic | | — | 80 |
| 50 | Substitute | Normal | | — | — |

Moves learnt by level up

Mr. Mime learns the following moves in Pokémon Yellow at the levels specified.

Moves learnt by HM

Mr. Mime is compatible with these Hidden Machines in Pokémon Yellow:

Moves learnt by TM

Mr. Mime is compatible with these Technical Machines in Pokémon Yellow:

| TM | Move | Type | Cat. | Power | Acc. |
| --- | --- | --- | --- | --- | --- |
| 1 | Mega Punch | Normal | | 80 | 85 |
| 5 | Mega Kick | Normal | | 120 | 75 |
| 6 | Toxic | Poison | | — | 90 |
| 8 | Body Slam | Normal | | 85 | 100 |
| 9 | Take Down | Normal | | 90 | 85 |
| 10 | Double-Edge | Normal | | 120 | 100 |
| 15 | Hyper Beam | Normal | | 150 | 90 |
| 17 | Submission | Fighting | | 80 | 80 |
| 18 | Counter | Fighting | | — | 100 |
| 19 | Seismic Toss | Fighting | | — | 100 |
| 20 | Rage | Normal | | 20 | 100 |
| 22 | Solar Beam | Grass | | 120 | 100 |
| 24 | Thunderbolt | Electric | | 90 | 100 |
| 25 | Thunder | Electric | | 110 | 70 |
| 29 | Psychic | Psychic | | 90 | 100 |
| 30 | Teleport | Psychic | | — | — |
| 31 | Mimic | Normal | | — | — |
| 32 | Double Team | Normal | | — | — |
| 33 | Reflect | Psychic | | — | — |
| 34 | Bide | Normal | | — | — |
| 35 | Metronome | Normal | | — | — |
| 40 | Skull Bash | Normal | | 130 | 100 |
| 44 | Rest | Psychic | | — | — |
| 45 | Thunder Wave | Electric | | — | 90 |
| 46 | Psywave | Psychic | | — | 80 |
| 50 | Substitute | Normal | | — | — |