Mr. Mime - Generation 3 learnset
Below are all the moves that Mr. Mime can learn in Generation 3, which consists of:
Pokémon Ruby
Pokémon Sapphire
Pokémon FireRed
Pokémon LeafGreen
Pokémon Emerald
Note: The move categories shown here are based on the move's type, as was the mechanic in Generations 1-3. The moves' detail pages may show a different category for Generation 4+.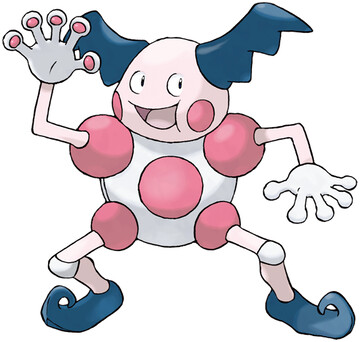 Moves learnt by level up

Mr. Mime learns the following moves in Pokémon Ruby/Sapphire at the levels specified.

| Lv. | Move | Type | Cat. | Power | Acc. |
| --- | --- | --- | --- | --- | --- |
| 1 | Barrier | Psychic | | — | — |
| 5 | Confusion | Psychic | | 50 | 100 |
| 9 | Substitute | Normal | | — | — |
| 13 | Meditate | Psychic | | — | — |
| 17 | Double Slap | Normal | | 15 | 85 |
| 21 | Light Screen | Psychic | | — | — |
| 21 | Reflect | Psychic | | — | — |
| 25 | Encore | Normal | | — | 100 |
| 29 | Psybeam | Psychic | | 65 | 100 |
| 33 | Recycle | Normal | | — | — |
| 37 | Trick | Psychic | | — | 100 |
| 41 | Role Play | Psychic | | — | — |
| 45 | Psychic | Psychic | | 90 | 100 |
| 49 | Baton Pass | Normal | | — | — |
| 53 | Safeguard | Normal | | — | — |

Egg moves

Mr. Mime learns the following moves via breeding in Pokémon Ruby/Sapphire. Details and compatible parents can be found on the Mr. Mime egg moves page.

Moves learnt by HM

Mr. Mime is compatible with these Hidden Machines in Pokémon Ruby/Sapphire:

Moves learnt by TM

Mr. Mime is compatible with these Technical Machines in Pokémon Ruby/Sapphire:

| TM | Move | Type | Cat. | Power | Acc. |
| --- | --- | --- | --- | --- | --- |
| 1 | Focus Punch | Fighting | | 150 | 100 |
| 4 | Calm Mind | Psychic | | — | — |
| 6 | Toxic | Poison | | — | 90 |
| 10 | Hidden Power | Normal | | 60 | 100 |
| 11 | Sunny Day | Fire | | — | — |
| 12 | Taunt | Dark | | — | 100 |
| 15 | Hyper Beam | Normal | | 150 | 90 |
| 16 | Light Screen | Psychic | | — | — |
| 17 | Protect | Normal | | — | — |
| 18 | Rain Dance | Water | | — | — |
| 20 | Safeguard | Normal | | — | — |
| 21 | Frustration | Normal | | — | 100 |
| 22 | Solar Beam | Grass | | 120 | 100 |
| 24 | Thunderbolt | Electric | | 90 | 100 |
| 25 | Thunder | Electric | | 110 | 70 |
| 27 | Return | Normal | | — | 100 |
| 29 | Psychic | Psychic | | 90 | 100 |
| 30 | Shadow Ball | Ghost | | 80 | 100 |
| 31 | Brick Break | Fighting | | 75 | 100 |
| 32 | Double Team | Normal | | — | — |
| 33 | Reflect | Psychic | | — | — |
| 34 | Shock Wave | Electric | | 60 | ∞ |
| 41 | Torment | Dark | | — | 100 |
| 42 | Facade | Normal | | 70 | 100 |
| 43 | Secret Power | Normal | | 70 | 100 |
| 44 | Rest | Psychic | | — | — |
| 45 | Attract | Normal | | — | 100 |
| 46 | Thief | Dark | | 60 | 100 |
| 48 | Skill Swap | Psychic | | — | — |
| 49 | Snatch | Dark | | — | — |

Moves learnt by level up

Mr. Mime learns the following moves in Pokémon FireRed/LeafGreen at the levels specified.

| Lv. | Move | Type | Cat. | Power | Acc. |
| --- | --- | --- | --- | --- | --- |
| 1 | Barrier | Psychic | | — | — |
| 5 | Confusion | Psychic | | 50 | 100 |
| 8 | Substitute | Normal | | — | — |
| 12 | Meditate | Psychic | | — | — |
| 15 | Double Slap | Normal | | 15 | 85 |
| 19 | Light Screen | Psychic | | — | — |
| 19 | Reflect | Psychic | | — | — |
| 22 | Magical Leaf | Grass | | 60 | ∞ |
| 26 | Encore | Normal | | — | 100 |
| 29 | Psybeam | Psychic | | 65 | 100 |
| 33 | Recycle | Normal | | — | — |
| 36 | Trick | Psychic | | — | 100 |
| 40 | Role Play | Psychic | | — | — |
| 43 | Psychic | Psychic | | 90 | 100 |
| 47 | Baton Pass | Normal | | — | — |
| 50 | Safeguard | Normal | | — | — |

Egg moves

Mr. Mime learns the following moves via breeding in Pokémon FireRed/LeafGreen. Details and compatible parents can be found on the Mr. Mime egg moves page.

Move Tutor moves

Mr. Mime can be taught these attacks in Pokémon FireRed/LeafGreen from move tutors (details):

| Move | Type | Cat. | Power | Acc. |
| --- | --- | --- | --- | --- |
| Body Slam | Normal | | 85 | 100 |
| Counter | Fighting | | — | 100 |
| Double-Edge | Normal | | 120 | 100 |
| Dream Eater | Psychic | | 100 | 100 |
| Mega Kick | Normal | | 120 | 75 |
| Mega Punch | Normal | | 80 | 85 |
| Metronome | Normal | | — | — |
| Mimic | Normal | | — | — |
| Seismic Toss | Fighting | | — | 100 |
| Substitute | Normal | | — | — |
| Thunder Wave | Electric | | — | 90 |

Moves learnt by HM

Mr. Mime is compatible with these Hidden Machines in Pokémon FireRed/LeafGreen:

Moves learnt by TM

Mr. Mime is compatible with these Technical Machines in Pokémon FireRed/LeafGreen:

| TM | Move | Type | Cat. | Power | Acc. |
| --- | --- | --- | --- | --- | --- |
| 1 | Focus Punch | Fighting | | 150 | 100 |
| 4 | Calm Mind | Psychic | | — | — |
| 6 | Toxic | Poison | | — | 90 |
| 10 | Hidden Power | Normal | | 60 | 100 |
| 11 | Sunny Day | Fire | | — | — |
| 12 | Taunt | Dark | | — | 100 |
| 15 | Hyper Beam | Normal | | 150 | 90 |
| 16 | Light Screen | Psychic | | — | — |
| 17 | Protect | Normal | | — | — |
| 18 | Rain Dance | Water | | — | — |
| 20 | Safeguard | Normal | | — | — |
| 21 | Frustration | Normal | | — | 100 |
| 22 | Solar Beam | Grass | | 120 | 100 |
| 24 | Thunderbolt | Electric | | 90 | 100 |
| 25 | Thunder | Electric | | 110 | 70 |
| 27 | Return | Normal | | — | 100 |
| 29 | Psychic | Psychic | | 90 | 100 |
| 30 | Shadow Ball | Ghost | | 80 | 100 |
| 31 | Brick Break | Fighting | | 75 | 100 |
| 32 | Double Team | Normal | | — | — |
| 33 | Reflect | Psychic | | — | — |
| 34 | Shock Wave | Electric | | 60 | ∞ |
| 41 | Torment | Dark | | — | 100 |
| 42 | Facade | Normal | | 70 | 100 |
| 43 | Secret Power | Normal | | 70 | 100 |
| 44 | Rest | Psychic | | — | — |
| 45 | Attract | Normal | | — | 100 |
| 46 | Thief | Dark | | 60 | 100 |
| 48 | Skill Swap | Psychic | | — | — |
| 49 | Snatch | Dark | | — | — |

Moves learnt by level up

Mr. Mime learns the following moves in Pokémon Emerald at the levels specified.

| Lv. | Move | Type | Cat. | Power | Acc. |
| --- | --- | --- | --- | --- | --- |
| 1 | Barrier | Psychic | | — | — |
| 5 | Confusion | Psychic | | 50 | 100 |
| 9 | Substitute | Normal | | — | — |
| 13 | Meditate | Psychic | | — | — |
| 17 | Double Slap | Normal | | 15 | 85 |
| 21 | Light Screen | Psychic | | — | — |
| 21 | Reflect | Psychic | | — | — |
| 25 | Encore | Normal | | — | 100 |
| 29 | Psybeam | Psychic | | 65 | 100 |
| 33 | Recycle | Normal | | — | — |
| 37 | Trick | Psychic | | — | 100 |
| 41 | Role Play | Psychic | | — | — |
| 45 | Psychic | Psychic | | 90 | 100 |
| 49 | Baton Pass | Normal | | — | — |
| 53 | Safeguard | Normal | | — | — |

Egg moves

Mr. Mime learns the following moves via breeding in Pokémon Emerald. Details and compatible parents can be found on the Mr. Mime egg moves page.

Move Tutor moves

Mr. Mime can be taught these attacks in Pokémon Emerald from move tutors (details):

| Move | Type | Cat. | Power | Acc. |
| --- | --- | --- | --- | --- |
| Body Slam | Normal | | 85 | 100 |
| Counter | Fighting | | — | 100 |
| Double-Edge | Normal | | 120 | 100 |
| Dream Eater | Psychic | | 100 | 100 |
| Endure | Normal | | — | — |
| Fire Punch | Fire | | 75 | 100 |
| Ice Punch | Ice | | 75 | 100 |
| Mega Kick | Normal | | 120 | 75 |
| Mega Punch | Normal | | 80 | 85 |
| Metronome | Normal | | — | — |
| Mimic | Normal | | — | — |
| Mud-Slap | Ground | | 20 | 100 |
| Psych Up | Normal | | — | — |
| Seismic Toss | Fighting | | — | 100 |
| Sleep Talk | Normal | | — | — |
| Snore | Normal | | 50 | 100 |
| Substitute | Normal | | — | — |
| Swagger | Normal | | — | 85 |
| Thunder Punch | Electric | | 75 | 100 |
| Thunder Wave | Electric | | — | 90 |

Moves learnt by HM

Mr. Mime is compatible with these Hidden Machines in Pokémon Emerald:

Moves learnt by TM

Mr. Mime is compatible with these Technical Machines in Pokémon Emerald:

| TM | Move | Type | Cat. | Power | Acc. |
| --- | --- | --- | --- | --- | --- |
| 1 | Focus Punch | Fighting | | 150 | 100 |
| 4 | Calm Mind | Psychic | | — | — |
| 6 | Toxic | Poison | | — | 90 |
| 10 | Hidden Power | Normal | | 60 | 100 |
| 11 | Sunny Day | Fire | | — | — |
| 12 | Taunt | Dark | | — | 100 |
| 15 | Hyper Beam | Normal | | 150 | 90 |
| 16 | Light Screen | Psychic | | — | — |
| 17 | Protect | Normal | | — | — |
| 18 | Rain Dance | Water | | — | — |
| 20 | Safeguard | Normal | | — | — |
| 21 | Frustration | Normal | | — | 100 |
| 22 | Solar Beam | Grass | | 120 | 100 |
| 24 | Thunderbolt | Electric | | 90 | 100 |
| 25 | Thunder | Electric | | 110 | 70 |
| 27 | Return | Normal | | — | 100 |
| 29 | Psychic | Psychic | | 90 | 100 |
| 30 | Shadow Ball | Ghost | | 80 | 100 |
| 31 | Brick Break | Fighting | | 75 | 100 |
| 32 | Double Team | Normal | | — | — |
| 33 | Reflect | Psychic | | — | — |
| 34 | Shock Wave | Electric | | 60 | ∞ |
| 41 | Torment | Dark | | — | 100 |
| 42 | Facade | Normal | | 70 | 100 |
| 43 | Secret Power | Normal | | 70 | 100 |
| 44 | Rest | Psychic | | — | — |
| 45 | Attract | Normal | | — | 100 |
| 46 | Thief | Dark | | 60 | 100 |
| 48 | Skill Swap | Psychic | | — | — |
| 49 | Snatch | Dark | | — | — |